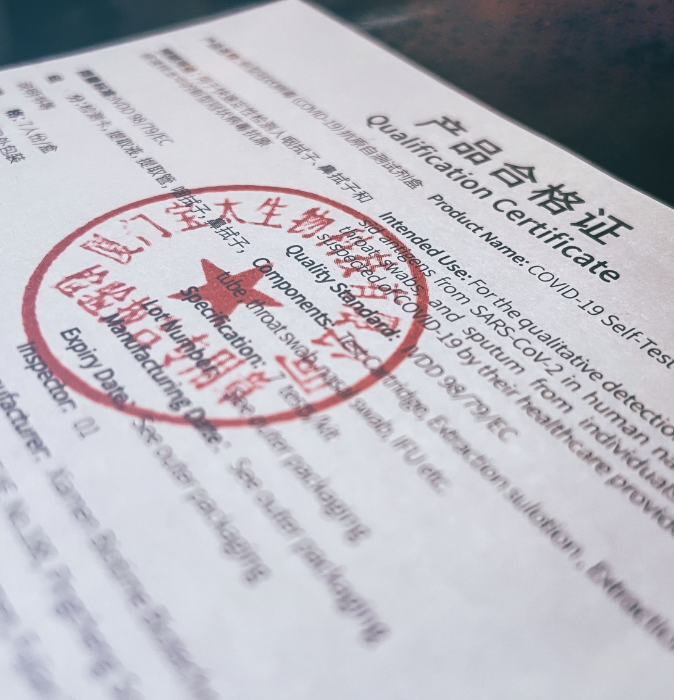 The world's major food retailers are increasingly requiring certification to GFSI-recognized standards. Achieve compliance and expand market access with Bureau Veritas' suite of GFSI certification services.
The complexity and global nature of food supply chains are making it more difficult than ever to assure food safety and quality. To address these challenges, more and more retailers are demanding compliance with food safety standards recognized by the GFSI. The Global Food Safety Initiative (GFSI) is a non-profit association of industry experts committed to improving food safety along the value chain. The GFSI approves a number of food safety standards covering farming, packaging, storage and distribution.
Bureau Veritas offers certification and auditing services for a wide range of GFSI-recognized standards. Certification to these standards shows retailers and consumers your organization's adherence to food safety management best practices, enhances your access to international markets and enables you to better manage food safety risk.
Key Benefits
• INCREASE CONSUMER LOYALTY: by demonstrating your commitment to food safety
• IDENTIFY AND CONTROL FOOD SAFETY RISKS: through industry best practices
• ACHIEVE CONTINUOUS IMPROVEMENT: with regular audits to identify non-conformities
• GO ABOVE AND BEYOND: regulatory requirements
• SECURE ACCESS TO GLOBAL MARKETS: with certifications requiring by retailers around the world
FSSC 22000
FSSC 22000 is a Global Food Safety Initiative (GFSI) approved food safety standard based on ISO 22000. Required by the world's leading food retailers, FSSC 2000 certification greatly enhances your market access. No matter your place on the food value chain, Bureau Veritas' global team of food safety experts can audit and certify your organization against FSSC 22000.
FOUNDATION FOOD SAFETY SYSTEM (FSSC 22000) CERTIFICATION
The Foundation Food Safety System Certification 22000 (FSSC 22000) offers a complete certification Scheme for the auditing and certification of Food Safety Management Systems (FSMS) or FSMS and Quality Management Systems (FSSC 22000-Quality).
FSSC 22000 is based on the widely recognized Food Management System Standard ISO 22000, the industry relevant Pre-Requisite Program (PRP) and FSSC defined additional requirements.
It specifically targets the food, feed and packaging manufacturing sector as well as the storage and distribution, catering and retail/wholesale sectors.
FSSC 22000 OVERVIEW
Incorporates existing standards; ISO 22000 including HACCP, sector-specific PRPs, and additional FSSC requirements (personnel, supplied materials, food defense, food fraud prevention, allergen management and food labeling)
Complete certification program in one package, making it accessible for organizations of all sizes
Owned by an independent non-profit organization; fully approved and recognized by the Global Food Safety Initiative (GFSI)
KEY BENEFITS
• RECOGNITION FOR YOUR COMMITMENT:
gain recognition for food safety continuous improvement of the food safety system and its performance
• AUDIT FATIGUE REDUCTION:
as FSSC 22000 is ISO-based, it also allows the scheme to be integrated with other ISO standards through integrated audits that will help to reduce the number of audits
• INCREASE CUSTOMER CONFIDENCE:
FSSC 22000 is GFSI benchmarked, recognized and accepted by the largest brands and retailers enhancing your reputation, giving your customers confidence in your production and supply chain management system.
• CONSIDER FSSC-Q:
this combines the requirements of FSSC with the requirements of ISO 9001:2015 into one overall management system audit
PGRADING YOUR ISO 22000 CERTIFICATION FOR BETTER RECOGNITION
As a food company that is already certified to ISO 22000, you can make a smooth transition to FSSC 22000 to gain GFSI recognition to be accepted by most of the largest brands and retailers. The transition to FSSC 22000 can be made by implementing the additional requirements set by the FSSC and the PRP standard relevant to your industry. The transition can be made at any audit in your three-year cycle and will result in a new FSSC certificate.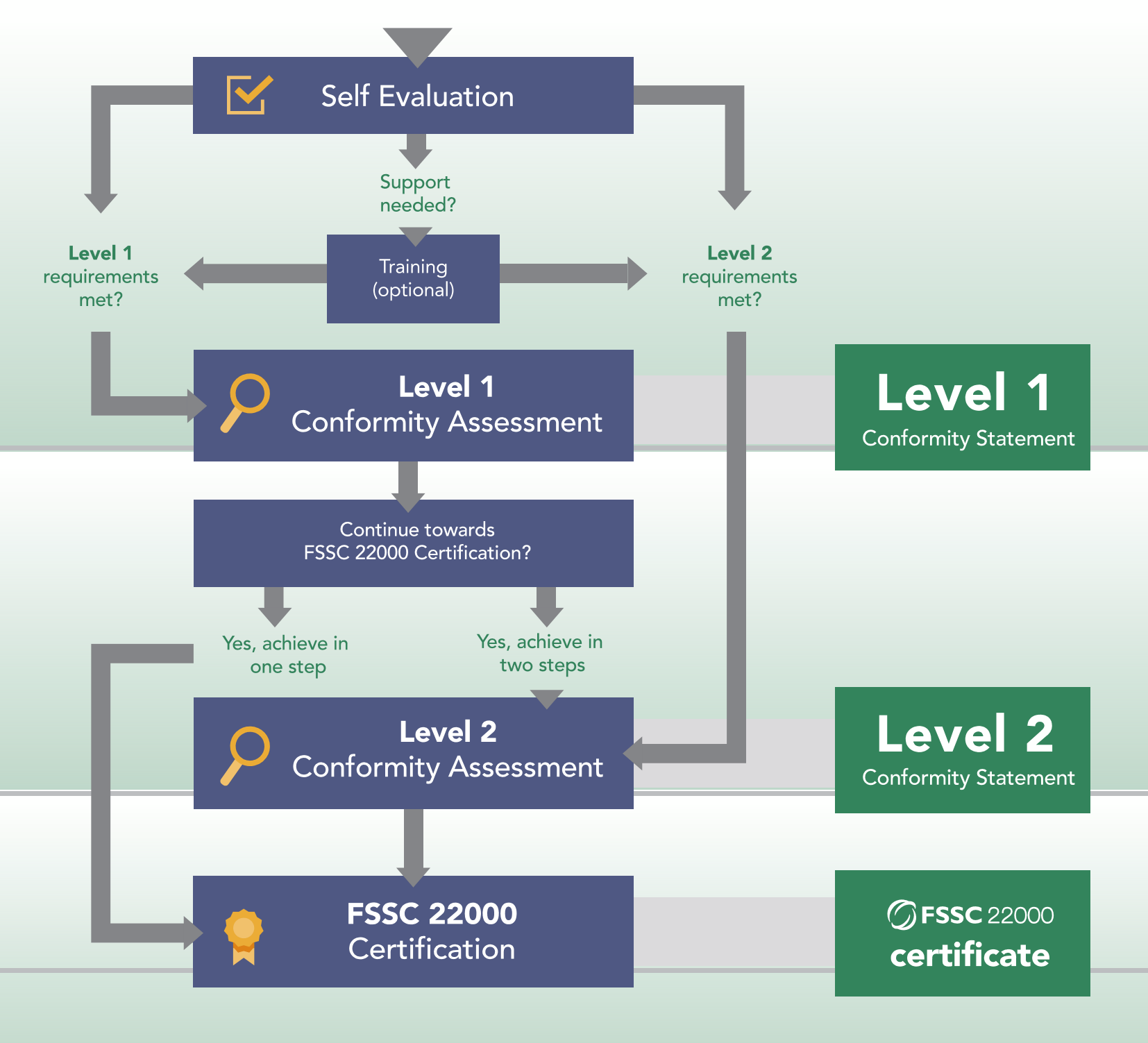 Which organizations can use the program?
The FSSC Development Program is applicable to smaller and medium sized food organizations in the sectors food manufacturing and catering. Both manufacturers of ingredients that supply to other food manufacturers and those that supply to retailers and food service organizations can benefit from the FSSC Development Program, such as:
• artisan food manufacturers and "start-ups"
• food product and food ingredient manufacturers in emerging markets
• developers of novel foods and ingredients
• manufacturers of food products for delivery to restaurants and retail
• catering facilities (including those serving airline, railways, cruise and passenger ships)
• hospitals and healthcare facilities
• school and industry dining rooms
• restaurants and Coffee shops
• hotels, hospitality and banqueting functions, food services and food stores
How to become a Conforming Organization?
The FSSC Development Program requires that food organizations meet minimum food safety requirements (Level 1 or Level 2) and allows them to proceed to GFSI recognized certification (FSSC 22000). The following steps are proposed for a successful result:
Step 1: Reflect
• Download all relevant Program requirements.
• Complete a self-evaluation against the requirements using the free to download self-evaluation tool with the possible support of an FSSC Development Program licensed Training Organization
Step 2: Prepare
• When needed, contact a FSSC Development Program licensed Assessment Body
• Arrange an assessment of the food safety system by the Assessment Body and implement any corrective actions in case of non-conformities
• Contact a FSSC 22000 licensed Training Organization for additional advice
Step 3: Conformity Statement
• After a successful assessment, the Assessment Body will issue a Conformity Statement (Level 1 or 2) and the organization will be listed in the FSSC register of Conforming Organizations.
• To continue the conforming status, annual assessments will be conducted.
• Organizations can decide to stay on their conforming level 1 or 2 or can choose to proceed in achieving full FSSC 22000 certification.
• The validity of a Conformity Statement Level 1 or 2 is one year.